On Tour with
Prism Book Tours
.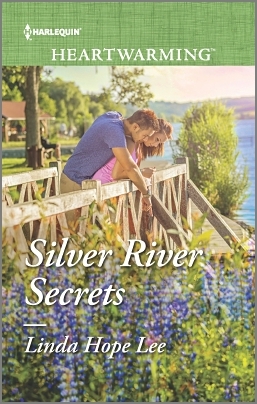 Silver River Secrets
by Linda Hope Lee
Adult Contemporary Romance
Mass Market Paperback & ebook, 384 pages
December 1st 2016 by Harlequin Heartwarming
Tragedy made them strangers. The truth could change that…
Lacey Morgan's grandmother is the only reason she has to ever set foot in Silver River. Her hometown is populated with too many ghosts and memories. Too many painful reminders. Including Rory Dalton.
In all her brief visits over the past ten years, they've barely spoken. Locked on opposite sides of the tragedy that tore their lives apart, they buried their feelings along with their parents. But this trip is different. She will stay a little longer. Dig a little deeper. And try to solve the mystery that has kept them from the truth…and each other.
Excerpt
CARRYING A VASE of pink roses, Lacey knocked on the door to her grandmother's apartment at the Riverview Retirement Community.
"Come in," came the cheery reply.
She opened the door and stepped into the apartment's compact kitchenette and from there into the living room.
Remylon Whitfield, looking crisp and cool in a pink cotton blouse and white slacks, sat in her wheelchair near the patio door. She held out her arms. "Lacey, love! I've been waiting for you."
"Good to be here, Gram." Lacey set her purse and the flowers on a table and then hurried to Remy's side and gave her a warm hug.
"I've missed you," Gram said when they ended their embrace. She glanced over Lacey's shoulder and clapped her hands. "You brought me some roses. Thank you."
"You're welcome. The best housewarming present I could think of."
"They're perfect. Did you get your room at Sophie's? You're staying for dinner here, though, right? We can play Scrabble afterward."
Gram's eyes behind her glasses were hopeful.
"I should have time for a game or two, although Sophie wants me to come to their Silver River Days party tonight. I told her I'd think about it."
"You should go, dear."
Lacey sighed. "I just don't feel comfortable in this town."
"I know, honey. Sometimes, when I get to thinking about the past, I don't, either." Gram looked down at her hands.
"But it's different for you. Having your son-in-law accused of murder is not the same as having your father, your flesh and blood, accused."
"Not accused, dear. Convicted," Gram said in a reproving tone.
Lacey opened her mouth to argue but then clamped her jaw shut. No sense in firing up their old disagreement, especially when she'd just arrived. Her gaze landed on two cardboard boxes sitting beside the patio doors.
"Looks like you've already done some moving."
Gram nodded. "Cousin Bessie helped me gather some things together before she left. Vernon brought the boxes over when he came to pick her up."
"That was nice of him. I could start unpacking them now. We have some time before dinner."
"Might as well."
While Lacey tackled the boxes, which contained mostly linens that she stowed away either in the bathroom or in the hall closet, her grandmother filled her in on her new life at Riverview. The food was good, the aides were nice and she'd met the woman next door, who was also a bridge player.
About the Author
Linda Hope Lee
writes contemporary romance, romantic suspense, and mysteries. She enjoys traveling especially to small towns in search of story ideas. She's also an artist, specializing in watercolor, pen and ink, and colored pencil. Photography provides inspiration for both her writing and her art. She lives in the Pacific Northwest, where many of her stories are set.
Tour Giveaway
- 1 winner will receive a $50 Amazon eGift Card & copy of SILVER RIVER SECRETS by Linda Hope Lee
(print if US, ebook if international)
- 3 winners will receive a copy of SILVER RIVER SECRETS by Linda Hope Lee
(print if US, ebook if international)
- Open internationally
- Ends December 12th
a Rafflecopter giveaway